Seedtag's 2021 in Context report conveys the year in context, breaking down the topmost noteworthy events of the past 365 days and relevant topics discovered through our data-driven findings. We've organized the year into four categories: winning, magic, change, and hope, highlighting everything trending, from sports championships and award shows to COVID-19 and space travel. All in all, we'll deep-dive into this well-informed year, backed by more than 1 billion articles analyzed by LIZ©.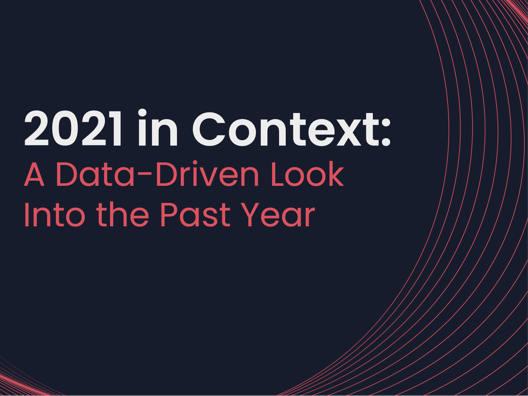 2021 was a momentous year. With many important events managing to make a comeback, this year brought us a much-needed revival of optimism and inspiration in times of uncertainty. It was a year of winning, with Italy's legendary triumph at the Euro 2020, the anticipated Tokyo Olympics, and the hosting of the 63rd Annual Grammy Awards. It was also a year of magic, as creativity sparked hit songs brought by Eurovision, iconic fashion by the Met Gala, and must-watch films featured in the Cannes Film Festival. It was a year of change, as the U.S. saw the inauguration of a new leader, the rollout of COVID-19 vaccines allowed us to bring back some sense of normalcy, and the transfer of well-known soccer players shook the industry. Finally, it was a year of hope, as we saw the landing of the Perseverance rover on Mars, the COP26 bringing the attention back on climate change, and the Space Race inspiring the future of what lies ahead.
All of the events mentioned above were some of the most-read article headliners of the year, discovered by Seedtag's contextual AI solution LIZ©, as readers sought to keep themselves informed of what was trending throughout 2021. As you read on, we'll break down each of these topics by our year-of categories: winning, magic, change, and hope, and dive into the specific category leaders that were most discussed regarding each subject.
A Year of Winning
This year, we celebrated the wins – big or small. As major sporting championships were brought back after a dormant 2020 season, we saw soccer dominate the trending charts. Especially UEFA's Euro 2020, which, at its peak, was covered in 40% of all soccer-related content. After arguably one of the most nail-biting penalty shootouts, it was Italy that outperformed England, bringing the win home to Rome. The Euro 2020 coverage was consistent, with top total article mentions including England's Harry Kane with 13%, Denmark's Christian Eriksen with 10%, and Italy's Gianluigi Donnarumma with 6%. The overall positivity associated with articles mentioning the Euro 2020 was high, with an 83% positivity rate. Moreover, most articles also indicated a joyous sentiment, with 85% joy and only 6% anger among content.
Another significant sporting event that was finally able to see light in 2021 was the highly anticipated Tokyo Olympics, with a 69% ▲ growth in interest compared to last year. Topics driving the most traffic included American gymnast Simone Biles with 10%, New Zealand weightlifter Laurel Hubbard with 3%, and British platform diver Tom Daley with 1%, out of the 11,000 athletes that took part in the Olympics. Biles, the most decorated athlete in gymnastics history, led the conversation by openly acknowledging her struggle with mental health, while Hubbard was the first transgender athlete to compete, and Daley won a record-breaking fourth medal. Positivity was high at 79%, while joy was at an impressive 92%.
In the award show category, it was the 63rd Annual Grammy Awards that stole the spotlight in terms of article coverage. It was a female-dominated lineup leading the headlines, featuring American singer-songwriters Beyoncé with 36%, Taylor Swift with 35%, and Billie Eilish with 32%. This year, Beyoncé became the most awarded and most nominated woman artist in Grammy history, Swift became the first and only woman solo artist to win the Grammy for Album Of The Year thrice, and Eilish took home Record Of The Year for the second year in a row. Articles covering the 2021 Grammy Awards featured an 88% positivity rate.
A Year of Magic
The spirit of magic was brought back into our lives through hit music, iconic fashion, binge-worthy shows, and new films. Eurovision attracted a hefty amount of coverage and traffic, thanks to rising stars and Italian rock band Måneskin with 32%, as well as French singer-songwriter Barbara Pravi with 15%, and hosts Laurence Boccolini and Stéphane Bern with 9%. Måneskin became the first Italian entry to win the contest in 31 years, while their hit single "Zitti e buoni" became the highest-charting Eurovision winning song in six years. Positivity in articles was at 88%, while 94% of articles expressed joy.
The Met Gala, commonly referred to as "fashion's biggest night out," was another important and anticipated star-studded red carpet event of the year. Traditionally, the gala is held on the first Monday in May. However, the 2020 event was canceled due to the pandemic. For one-time-only, the Met Gala resumed in 2021 but was held in September. Topics driving the most attention include American socialite Kim Kardashian with 24%, Barbadian singer Rihanna with 18%, and Editor-in-Chief of Vogue Anna Wintour with 13%. The articles surrounding the Met Gala generally cover topics such as who attended the exclusive event, and who or what they were wearing. Kardashian drove the most attention, rewriting the rules of the red carpet with her head-to-toe black-out dress, a faceless look that sparked much controversy and debate among publishings. The overall positivity rate was 76%, with joy for the event at a steady 92%.
The last major event bringing us equal doses of magic and creativity was the Cannes Film Festival, both known for its celebrity red carpet fashion, and for acknowledging the top films and filmmakers of the year. Some of the most-talked-about individuals in attendance featured American model Bella Hadid with 28%, American actress Sharon Stone with 18%, and French filmmaker Julia Ducournau with 4%. Hadid and Stone were praised for their couture looks and designer dresses, while Ducournau made history winning the Palme d'Or for the film 'Titane.' The topic generated 72% positivity and 95% joy among articles.
A Year of Change
Change is an inevitable yet fundamental part of our lives. We don't evolve and improve by chance, but by changing and adapting to what comes our way. This year, the United States saw a major change in its leadership, with the inauguration of the 46th U.S. President, Joe Biden. Additionally, the inauguration of the 49th Vice President, Kamala Harris, who became the first female VP and the highest-ranking female official in U.S. history, as well as the first African American and first Asian American VP. Biden also won the attention battle against Trump, with 69% of mentions compared to 57%, followed by Harris with 19%. Overall, a semi-divided U.S. was seen in sentiments as well, with 76% of articles expressing joy and 20% anger.
Similar to 2020, COVID-19 continued to be a persistent topic across articles and news coverage. However, an important change this year was the global rollout of COVID-19 vaccines. The AstraZeneca and Pfizer vaccines came close in attention, driving 34% and 33%, respectively, while Moderna followed behind with 19%. The rollout of COVID-19 vaccinations across the world also prompted a resurgence in travel and the ability to have large gatherings, with the introduction of the COVID-19 vaccination cards and passports. Accordingly, there was a 72.84% ▲ increase in travel-related article traffic, as well as a 102% ▲ increase in the brand safety of articles mentioning COVID-19. Overall, article sentiment was at 78% joy.
Finally, the noteworthy changes brought on by the soccer transfer window of the summer. Sports played a significant role in what was trending, especially when considering the passion soccer fans have for their favorite clubs and players. The most-mentioned players included Argentine footballer Lionel Messi with 14%, French soccer player Kylian Mbappé with 9%, and Portuguese soccer star Cristiano Ronaldo with 8%. Messi's departure from FC Barcelona to PSG after 21 years of allegiance shook the industry and, in turn, the news dominated the sports world for several weeks. The news of transfers also brought mixed emotions, resulting in 22% joy, 13% optimism, and 12% sadness among article sentiments.
A Year of Hope
Hope is the one thing that can help us get through the toughest and darkest of times. It proves that anything is possible, and that the incredible isn't as far away as we think. This year, we accomplished some great milestones, including the landing of the Perseverance rover on Mars. This comes as one of the most ambitious Martian exploration missions including the exploration robot, Perseverance, launched by NASA with the main objective to look for traces of life on Mars. The most associated terms in mission-related articles included the Perseverance rover with 85%, the coaxial helicopter Ingenuity with 25%, and the Mars 2020 project with 23%. An important moment in space history brought great positivity among content at 84%, while joy was also high at 96%.
The COP26, or the 2021 United Nations Climate Change Conference, brought us hope by shifting our attention back to the subject of climate change and addressing the necessary measures our world leaders and government officials need to take. Topics with the lead in article mentions included the host country of Scotland with 17%, the United Kingdom as a whole with 16%, and the United States with 4%. Key topics discussed included sustainability, temperature, fossil fuels, global warming, and gas emissions. There's plenty left to do for the sake of the planet, and sentiments across articles agreed, with 35% optimism, 24% sadness, and 18% anger.
The final major event of the year we refer to as the Space Race. This describes the 'race,' or competition, taken on by Amazon founder Jeff Bezos, Virgin Group founder Richard Branson, and CEO of Tesla Motors Elon Musk in commercializing space travel and furthering space exploration. Among topics of interest include Bezos with 32% and Blue Origin with 14%, Branson with 17% and Virgin Galactic with 15%, and Musk with 8% and SpaceX with 4%. Branson, the 70-year-old British billionaire, reached space nine days before Jeff Bezos' planned flight. However, tensions are high as more countries and companies aim to reach the Moon, Mars, and beyond. Overall, of space travel-related articles, 80% were positive.
A Momentous Year
This year proved we can always make a comeback, no matter how tough an obstacle or how dark a path. We took important measures, made sacrifices, and joined together for the common good of the people, all in just 365 days. From the exciting wins on the field and stage to the biggest of changes in what we once knew, 2021 will forever go down in history as a year of legendary reads as we sought to get better informed of what goes on in the world around us. It's up to us to continue pushing past any challenges as one force, never giving up hope nor courage as we strive for an even better tomorrow. Keep on reading.
---
-----------
In this 2021 in Context report, we reviewed the top relevant content insights & trends – but where did our findings come from?
Using our contextual artificial intelligence, LIZ©, we have processed data from our network of publishers around the world, analyzing their content using Natural Language Processing (NLP), tagging each article according to its subject matter with one of our contextual categories & subcategories, and identifying whether the content is brand safe for advertisers. We have evaluated each topic separately according to traffic generated, associated sentiment, growth over time, and the % of that traffic that is brand safe content (positivity). If you are interested in learning more about how contextual data and AI can boost your brand, feel free to contact us.