Findings highlight key terms being discussed across Seedtag's global publisher network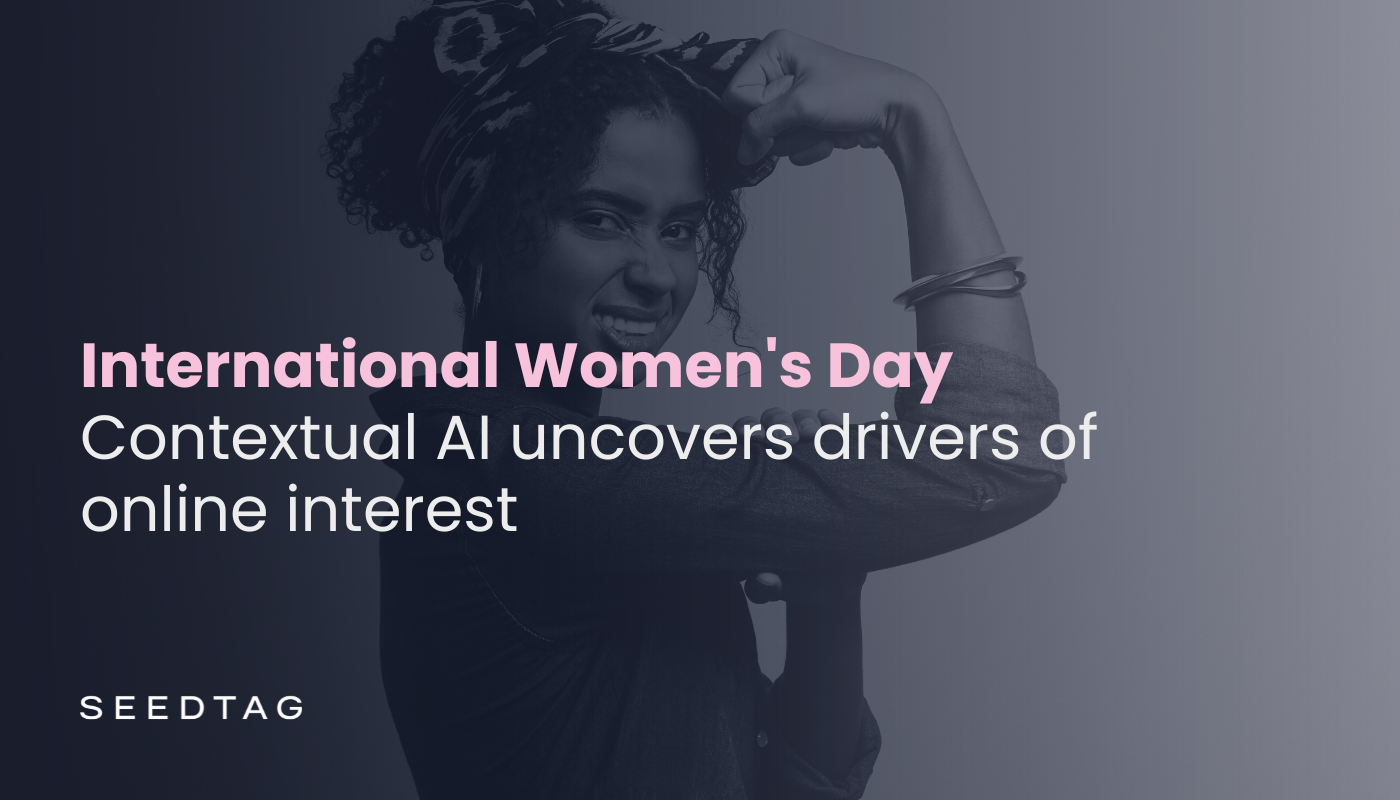 Seedtag, a leading contextual advertising company with an employee base of 49% female, and with 48% of its management positions held by women, has revealed the key online content drivers for this year's International Women's Day (IWD), through the use of its state-of-the-art contextual AI technology, LIZ©.
The key theme of IWD 2023 is "DigitALL: Innovation and technology for gender equality," and using AI-driven contextual analysis to calculate online interest in IWD is one of the many examples of the intersection between technology and gender that is of high importance to Seedtag. From the start, Seedtag has been dedicated to inclusivity and equality, with many of its major markets led by women, including France, the UAE, Mexico, Brazil and Colombia.

To understand key drivers of interest in IWD, Seedtag's leading contextual AI, LIZ©, analyzed millions of articles across Seedtag's global publisher network in the interest period surrounding IWD. Using natural language processing, LIZ© can determine which terms and topics generate the most interest from site visitors. Its IWD findings include:
This year's slogan #EmbraceEquity generated the most interest (11%) within the categories of content related to IWD 2023.
There was strong overlap between "embrace equity" and other topics related to representation: 8% of relevant articles related to this category were linked to the fight against racial discrimination, while 7% were related to the LGBTQ+ community.
Behind "Embrace Equity," the categories of "Transversal Feminism" (6%), "Women's Health" (5%), and "Women in Sport" (3%) generated the most interest.
Female empowerment also generated high interest among users across topics such as actresses (22%), fashion icons (18%), and singers (14%).
Jocelyn Lo, Global Brand and Communications Director at Seedtag, said:"Having diversity in the workforce can bring in many different strengths, experiences, and values leading to a more powerful learning experience for all. It starts with companies educating employees on how to facilitate a safe space for women to be heard, respected, and valued in the workspace. We should strive to build an environment that creates opportunities for current and future women leaders in the tech space. Representation matters!".
On March 30th, Seedtag is championing female leaders in the industry by organizing an online Q&A panel, "Women in AdTech: A Gender-Responsive Approach to Innovation," which will highlight leading women in the sector, as well as the role technology and innovation can play in empowering women and bringing about equality.. The webinar will take place at 10:00 am EST, and allow panelists to talk about their experiences in the industry, highlight progress towards female representation in tech, and innovative ways to reach DE&I goals.
The panel will be moderated by Jocelyn Lo, Global Brand & Communications Director at Seedtag. Panelists include: Michelle Sarpong, Head of Display, Audio & OOH Activation at the7stars; Anam Amin, Senior Digital Supply and Product Manager at Publicis; Alexandra Stewart, Director of Business Development at The Trade Desk; Danielle Darko, EMEA Digital Director at EssenceMediacom and Kaily Groover, Director of Investment & Media at VaynerMedia.
Registration for the webinar can be found here.