Seedtag, the leader in Contextual advertising in EMEA and LATAM, has today announced that it has developed specific computer vision capabilities to detect sports and help advertisers harness the power of visual media throughout the Tokyo 2020 Olympic Games. Seedtag's contextual artificial intelligence (AI) technology provides brands with the opportunity to extend their sport sponsorships to the visual media content. It provides the highest level of brand safety on the market and improved performance without using personal data, enabling brands to deliver advertising that is both effective and respectful of privacy.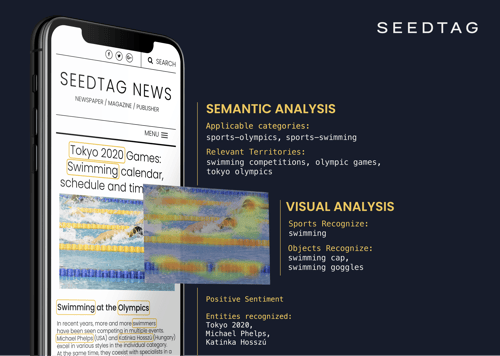 One of the most powerful and compelling types of AI, computer vision is the field of machine learning that partly replicates the complexity of the human vision system. This enables computers to identify and process objects in images in the same way that humans do. Using its image recognition technology, Seedtag can deliver highly visible advertising campaigns to more than 500 million users as they view pictures and content across more than 3000 premium publishers.

Seedtag's computer vision technology is highly sophisticated to help brands reach consumers by taking advantage of a technology that would allow them to harness the power of sports visual imagery. At the same time, it also helps them to avoid negative associations. One of the driving factors behind the development of Seedtag's computer vision is that it has been designed to be highly scalable, allowing millions of classifications to be processed daily.
The Tokyo Olympics are due to start this month. The 2020 Summer Olympic Games are scheduled to take place in the Japanese capital between 23 July and 8 August. The Games involve 33 competitions and with the appetite for sport at an all time high, the Olympics are expected to be one of the biggest sporting events of the summer. Due to the COVID-19 pandemic and last summer's lack of live sports events, the consumption for this type of content has experienced a global upward trend, with the consumption of sports news increasing by more than 35%.
To continue expanding its Computer Vision capabilities, Seedtag has been particularly attentive to ensure that its image recognition technology detects that images on publisher sites explicitly feature sports. Trained to detect more than 30 sports, the model is able to indicate and discern sports such as athletics, badminton, basketball, boxing, cycling, fencing, football, golf, handball, martial-arts, rugby, surfing, swimming, table-tennis, tennis, volleyball and weightlifting, among others.
Jorge Poyatos, Co-Ceo of Seedtag, says: "Throughout the Olympics, we are providing advertisers with premium inventory to enable them to associate their brand with the event. More than 70% of the adult population finds Olympic athletes inspirational. With the help of contextual AI, advertisers will be able to reach these people by broadcasting their campaigns on web articles dedicated to the subject by integrating their messages into the content where these athletes are featured. In this way, brands can benefit from the "halo effect" and associate themselves with the values represented by these people and the different sports they play."
There is plenty of room for brands to use image recognition to better ensure brand safety and target new potential audiences. Image recognition tech is capable of achieving this in a fraction of the time it would take for a human to do it (less than 100ms). Now that privacy laws have changed the way marketers can use personal data, it's more important than ever for brands to look at technology such as computer vision as a necessary component of a successful strategy.
Seedtag offers a Contextual Full Stack technology: human-like understanding of the content, high-impact solutions and real time placement optimisation (DPO, Dynamic Placement Optimisation) to ensure all brand messages are seamlessly integrated into the optimal content. This proprietary technology, based on the industry's first artificial intelligence, analyses online articles to optimise ad targeting. It is the only full-stack advertising suite on the market, enabling brands to build their advertising strategy around reliable data, and to display ads in the in-content placements that best capture users attention. Thanks to exclusive publisher partnerships, Seedtag enables brands to extend their sponsorships to the digital environment.