Creative effects such as Seedtag's Extra Blend are designed to be seamlessly integrated within content which does not only make ads much more attractive, but also improve campaign results
Seedtag, the leader in Contextual advertising in EMEA and LATAM, has today announced that it has implemented an Extra Blend effect for its branded video advertising solutions in order to maximise the integration of contextual ads into content. This functionality allows brands to seamlessly integrate their messages into the content creating an effect that not only makes ads much more attractive, but also improves campaign results compared to standard outstream video solutions. When leveraging the new solution, video skip rate has been found to decrease by as much as 85%.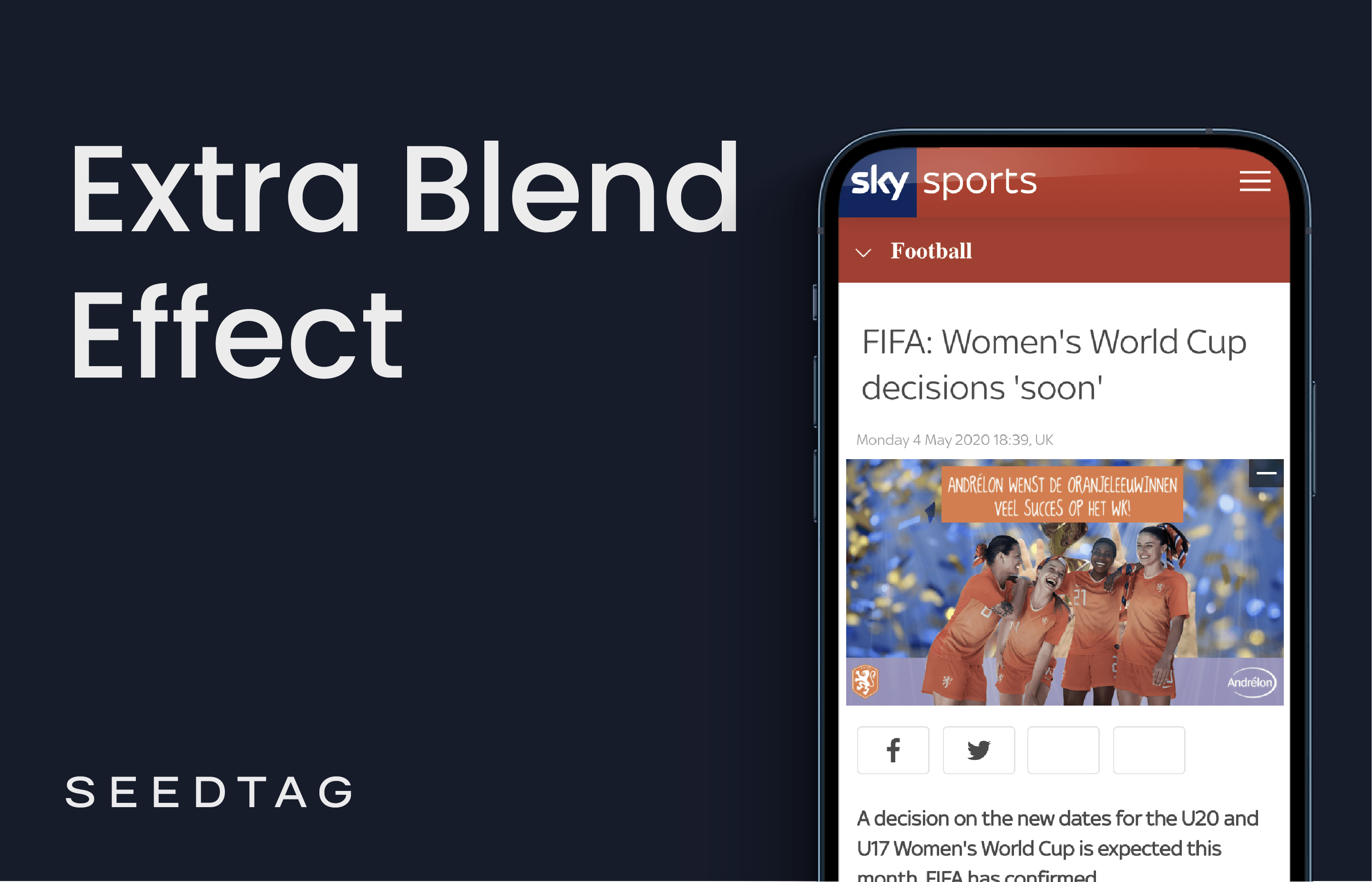 Integration meets innovation when contextual ads are blended into content. The Extra Blend layout created by Seedtag boosts brand association with content: images and videos are more attractive and retain the user's attention longer, which allows brands to communicate their messages effectively and achieve a higher level of ad recall.

Seedtag is constantly developing creative alternatives that both guarantee an optimal user experience and help brands to connect with their audiences. Creative effects such as Seedtag's Extra Blend are designed to be seamlessly integrated within content and perceived as part of the content itself. In turn, advertisers will be able to grab their audience's attention by using elements that are surprising and that stray away from commonplace or obvious ideas.

The Extra Blend effect test results, certified by IAS and MOAT, showed that the video skip rate decreased by 85% compared to the same campaign served with other less integrated solutions, guaranteeing it retains user attention. In addition, thanks to the Extra Blend effect, the number of clicks also increased by 118% on average, while the click-through rate (CTR) rose by more than 0.9%. Furthermore, this effect allowed the test campaign to achieve more than 22% video completions.
The Extra Blend effect integrates the ad into the article's image but always maintains approximately 40% of the original image. In this sense, the advertiser's information takes over a sufficient space, but always acquires absolute integration with the image without completely covering it.

Fernando Pascual, Global Head of Design at Seedtag, states that: "The integration in contextual advertising clearly multiplies the benefits that contextual advertising brings to brands. With the Extra Blend effect, we are helping our clients to be much more relevant for each audience because their ads are going to be seamlessly blended with the content the audience is interested in. This is the most important advantage of the effect: ads are blended into the content they are part of".
Contextual advertising is a highly efficient way of delivering ads that are directly relevant to the content the readers are consuming, without the use of cookies or collecting personally identifiable information (PII). Seedtag has developed a powerful contextual AI technology to give advertisers a broad range of innovative capabilities and tools to reach the best contextual integration. In addition, Seedtag's bespoke solutions have more positive responses than regular ads, as they are found more attractive, enjoyable and interesting by users.