Based out of the UK, the new Global Senior Vice President of Publisher Partnerships and Senior Vice President of EMEA will focus on growth globally and in the EMEA region
Seedtag, the leading contextual advertising company, has announced two new hires, based in the UK office, to further bolster its senior leadership team. In her new position as Global SVP of Publisher Partnerships, Seraphina Davey will look to develop and deliver a global strategy to grow Seedtag's premium inventory, while Jana Eisenstein, Senior Vice President of Sales EMEA, will be responsible for advertising strategy, partnerships and activities across the region.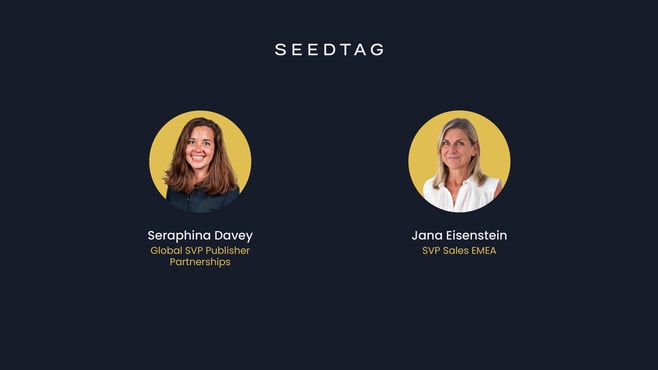 Seraphina Davey joins with over 15 years of publishing and advertising expertise, most recently leading the EMEA publisher business at Taboola. She will be tasked with securing high-quality inventory that will allow Seedtag to expand its full-stack contextual advertising offering, as well as unifying and standardising processes for sales and account management within the publisher team. She will also look to bring her experience to ensure a greater focus on supporting publishers to navigate a privacy-first world and building contextual strategies that enable them to grow, retain and monetise their audiences effectively.

Davey says of her appointment: "Coming from a publisher background, it is hugely exciting for me to join a company that has spent nearly ten years building such a powerful advertising product that can be leveraged to tackle such a current and urgent challenge for publishers– cookie deprecation. As cookies disappear, publishers must find ways to understand their audiences and drive revenue without jeopardising user experience– this is the heart of Seedtag's business. There is such huge potential in what we can offer, and I am really looking forward to working with the team to build Seedtag's publisher offering."

Jana Eisenstein also joins Seedtag with a wealth of experience, with over 20 years in digital advertising and marketing technology spanning media, content and creative. She has previously had leadership roles at technology leaders Microsoft, Cap Gemini and ProSiebenSat1, as well as, having scaled pioneering ad technology businesses. Jana joins Seedtag from Vidsy, an advertising SaaS solution. With a proven track record for scaling tech companies, she will be tasked with leading the significant Seedtag EMEA business in driving value for Seedtag clients and continued business growth and delivery scale across Seedtag EMEA.

Eisenstein said of her new role: "I am excited to join Seedtag at this pivotal time for the company and contextual advertising and to lead such a talented and successful team. It is a great opportunity to consolidate my media, creative and content experience with a market leader in contextual advertising. Seedtag's strong pedigree in contextual AI technology will further facilitate its rapid growth – greatly aided by the recent funding of €250 million through Advent. I look forward to driving future success with the Seedtag team in the very important area of contextual advertising."

Albert Nieto, Co-CEO and Co-founder, at Seedtag commented about both appointments: "Adding such experienced and successful leaders to our team shows the ambitions that we have. As we look to further scale and bring our solutions to advertisers and publishers, the invaluable knowledge of both Seraphina and Jana will be vital. I'm really pleased to have them onboard."