Seedtag, the leader in contextual advertising in EMEA and LATAM, has today announced that it has achieved the Gold Standard 2.0 Certification in sell-side support from the Internet Advertising Bureau (IAB).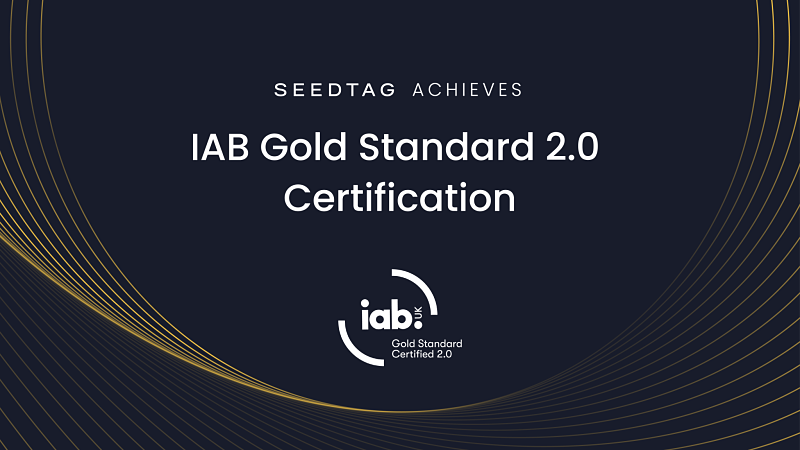 Designated by the Internet Advertising Bureau (IAB UK), the gold standard certification aims to resolve privacy concerns within the digital advertising industry by increasing cross-industry transparency and standardising the use of consumer's data. The gold standard is the most prestigious certification in UK digital advertising standards, and has been awarded to a select number of top companies, including Facebook, YouTube and Instagram.
In order to ensure the company's commitment towards the highest global standards of brand safety and fraud prevention, Seedtag took part in a rigorous process of certification, in which it demonstrated its commitment to:
Reducing Ad Fraud: Seedtag adopted the IAB Tech Lab app-ads.txt initiative to reduce ad fraud. This project gives publishers and advertisers a simple, flexible and secure way to declare who is authorised to sell their inventory, increasing transparency in the programmatic advertising ecosystem.
Improving the Experience: Seedtag's full-stack contextual advertising suite, including its contextual AI LIZ® and Seedtag LAB, allows brands to target and reach their desired audiences in a more effective and easier way. Seedtag's contextual ads are also less intrusive and more relevant to the page, thus improving the experience for consumers. The organisation also supported the Coalition of Better Ads' Better Ads Standards.
Helping Compliance with GDPR and ePrivacy Law: The organisation's contextual advertising suite allows advertisers to effectively reach the desired consumer while complying with GDPR and ePrivacy laws.
Upholding Brand Safety: In December 2021, Seedtag was certified as compliant with TAG Brand Safety Certification guidelines version 2.0, by the Trustworthy Accountability Group (TAG). This is the industry's largest and broadest brand safety programme, which aims to protect the integrity of digital advertising.
These certifications demonstrate Seedtag's commitment to brand safety and resolving privacy concerns in digital advertising, showcasing the organisation's ability to provide a brand-safe and trustworthy advertising environment.
Paul Thompson, UK Country Manager at Seedtag, said: "Signing up to and completing the IAB Gold Standard certification was something Seedtag felt very strongly about supporting and championing. This is especially important to us as we are a company founded on the principle of respecting consumers' privacy whilst providing agencies and brands with an effective, brand-safe alternative in the cookieless future."