Another Q, another recap of relevant, data-driven findings. In this

global contextual trends report

, we break down global content trends found in Q3 that prevailed, and those that fell short. Powered by Seedtag's contextual AI solution, LIZ©, we discovered a summer of sports, with this category coming out on top in total online traffic and notable growth in overall site visits. Also mentioned, style, beauty, travel, and vehicles, and the logic behind why insights show a positive summertime incline in some categories, but a downfall in others.
Q3 Global Contextual Trends Report
That genuine, long-desired summertime feeling finally returned this year. After last year's atypical summer, the first half of 2021 saw an increase in optimism regarding the coming season as a sense of normalcy began to be reinstated. The anticipated arrival of special events, such as the Olympics, had been the culmination of hope for many, and passion for sports returned with a swift kick yielding a 11.86% ▲ growth over the previous Q's numbers.
This season also showcased an important emphasis on fashion, especially after a long period of quarantine, while summertime trends gave attention to areas such as tanning and skincare, demonstrating a measurable increase compared to the previous Q.

Traffic and Brand Safety Variation Overview
As you read on, you'll find a breakdown of some general insights regarding the dynamics throughout Q3. We have also grouped together the top 10 most trafficked categories in the graph above, making it easier for you to see an overall Q/Q look at what flew and what fell this past quarter.
In the summer, internet content consumption changes according to consumer habits, leading to an increase in certain categories. The reigning champ in upward content trends this Q was sports - expected with the return of major championships. Shown below, the shift in seasonal routine also brought an increase in the positive trend of personal care, travel, and cars, as consumers seek a summer of relaxation and enjoyment.
Sports:
87.33% positivity

1.63 ▲

positivity Q2-Q3
Style and fashion (not between the biggest 10)
15.65% ▲

visits Q2-Q3
87.71% positivity

2.61 ▲

positivity Q2-Q3
Beauty and personal care (not between the biggest 10)
8.14% ▲

visits Q2-Q3
79.59% positivity
Travel
2.18% ▲

visits Q2-Q3
66.50% positivity

4.06 ▲

positivity Q2-Q
Autos and vehicles
3.96% ▲

visits Q2-Q3
75.51% positivity

3.20 ▲

positivity Q2-Q3
The same dynamic that was responsible for the rise of the previous categories also triggered the downfall of the following ones. The relaxed, summertime mindset caused individuals to "un-plug," lowering their tendency to check the latest news and tabloids. After the hustle and bustle of pre-summer planning, the total interest in health-related issues decreased, revealing a decline in the level of social alarm readers have regarding the pandemic as vacation time approaches.
News
Gossip
Arts-and-entertainment
Education (not among the 10 most visited)
A Summer of Sports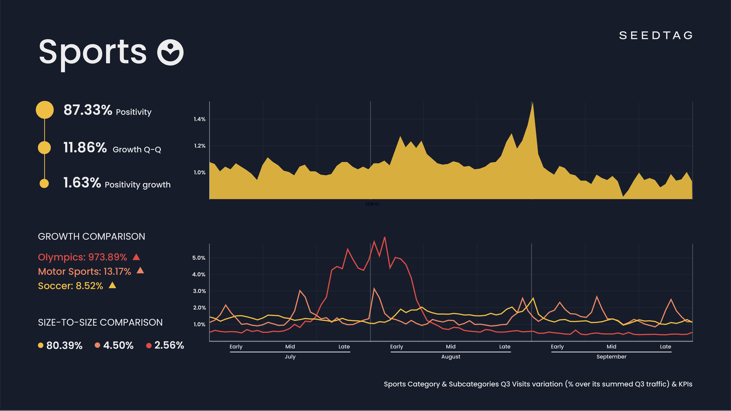 To kick off this in-depth look at the content trends of the summer, we'll start off with the main event: Sports. This category not only brought in a leading majority of visits, but also dominated the total traffic received throughout the Q. For this reason, we have dubbed this summer as the "Summer of Sports." Now, let's dive into what helped Sports come out on top.
Thanks to the relatively amicable weather and the liberating vacation time, sports thrive in the summer. This season was also loaded with major sporting events, formerly postponed due to the pandemic. To make it easier to understand what we are looking at, we have broken down our contextual subcategories below, identifying each trend separately.
Soccer maintains its title as "the king sport," leading by several orders of magnitude and accounting for 74% of all visits. This Q caught the finals of the UEFA EURO 2020 – and Italy's dramatic win. The summer was marked by the transfer window, in which soccer clubs may buy and sell players. Highlights of this period include soccer player Lionel Messi's departure from FC Barcelona to PSG, with traffic increasing around this announcement in early August.
Also revealed as the transfer deadline of August 31st approached, news continued to circulate regarding final pick-ups within the Spanish, French, and Italian leagues. Including talks of notable players such as Kylian Mbappé, Antoine Griezmann, Sergio Ramos, Gianluigi Donnarumma, and Cristiano Ronaldo.
Motorsports did not fall short either due to hype surrounding F1 racing and the Grands Prix. The Hungarian GP and the British GP are responsible for peaks in mid-July and early August, respectively. With this, motorsports achieved an increase of 13.17% over the previous Q.
The big event this summer had been the Olympic Games, generating its very own subcategory. Taking a look at the graph, it's clear to see how interest in this event fluctuated, increasing on July 14 and extending until August 15, with the zone of maximum interest between July 25 and August 7, bringing in 77% of positivity.


Style, Beauty, & Everything in Between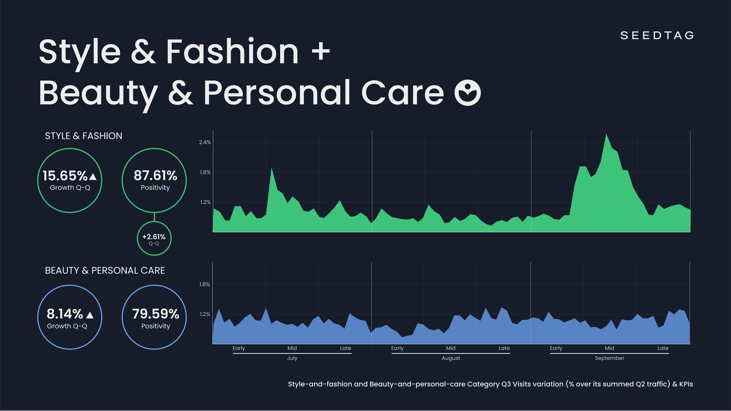 Seeing the numbers in the Style and Beauty categories rise in the summer comes with no surprise. Thanks to vaccination rollouts, the summer of 2021 underwent more leniency in terms of being able to gather with friends in social settings, and a resurgence of events – such as fashion shows returning to the runway.
The Style and Fashion category increased significantly during the summer (15.65% ▲). This growth correlates with summertime trends, such as swimwear and beachwear, leading consumers to conduct fashion-related research, and make online purchases to achieve a stylish summer wardrobe.
This summer also saw the return of fashion-centered events, including the Cannes Film Festival, the Met Gala, and New York Fashion Week, to name a few. The latter two major events occurred between early/mid September, during the largest peak in the graph above.
Sports also made its way into the Fashion and Style category, generating a very significant increase in the Sporting Goods subcategory (457.02% ▲). A key player here was the unveiling of FC Barcelona's new kit, which debuted early-September for the UEFA Champions League.
In the case of Beauty and Personal Care, there is a reasonable logic behind its peak in the summer season: the sunny weather. In most countries, Q3 falls during some of the hottest months of the year, leading to consumers increasing their exposure to the sun's powerful rays. For this reason, in addition to this category's increase (8.14% ▲), there was also a sizable increase in its subcategories, haircare (11.48% ▲) and skincare (10.94% ▲).
Catchin' Flights – Tourism Makes a Comeback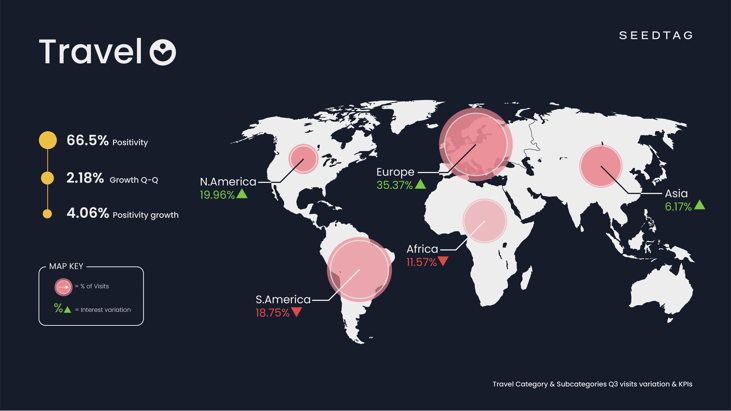 In last Q's analysis, we found the increase in Travel-related visits was caused by consumers planning summer trips. This Q, an increase in the number of visits continued to persist (2.18% ▲). Below, we've broken down the destinations, making sense of the shifts in interest and changes compared to last Q.
As shown in bubble size, Europe (40.88% of total visits) and South America (25.85% t.v.) generated the most interest. A flip from last Q, in which South America (30.20% t.v. for Q2) surpassed Europe (28.67% t.v. for Q2). Africa faced a substantial reduction (Q2 = 14.44% t.v.; Q3 = 11.93% t.v.), reducing the gap with Asia (11.86% t.v.).
This summer, travel destinations varied in interest as countries adjusted their border entry restrictions. Interest growth in Europe reflects its predominantly open borders, and readers researching requirements upon entry. As for North America, its growth was as a result of the U.S. announcing it will soon allow most vaccinated foreign air travelers entry into its states.
The drop in interest in South America and Africa does not reflect disinterest in traveling there, as positivity actually increased (South America: 45.24% positivity, 4.62 ▲ positivity Q/Q; Africa: 57.62% positivity, 0.85 ▲ positivity Q/Q), indicating prior interest was partly centered on the COVID-related, negative aspects of visiting.
------------
In this Q3 analysis, we reviewed the most relevant content insights & trends - but where did our findings come from?
Using our contextual artificial intelligence, LIZ©, we have processed data from our network of publishers around the world, analyzing their content using Natural Language Processing (NLP), tagging each article according to its subject matter with one of our contextual categories & subcategories, and identifying whether the content is brand safe for advertisers. We have filtered this information by date, in this case, Q3 (July 1st to September 30th, 2021), and compared it to the previous Q (April 1st to June 30th, 2021), evaluating each category separately according to traffic generated and the % of that traffic that is brand safe content (positivity).
The analytics shown along with other data points were used by our advertisers in real time to boost their campaigns and increase association with their brand values. If you are interested in knowing more about how contextual data and AI can boost your brand, feel free to contact us.